It's almost time for the holidays, and if you're looking for fun and festive outdoor ideas and holiday inflatable decorations for your home – you've come to the right place.

---
I may earn a small commission for affiliate links in this post at no extra cost to you. Please read my privacy page for more information. As an Amazon Associate, I earn from qualifying purchases.
---

Get ready for the most wonderful time of the year and get in the Christmas spirit by checking out some decorations so your home looks the best on the block.
Over the last several years, holiday yard decorations and outdoor inflatable decorations have become a must-have in every front lawn across America.




Whether decorating your porch, patio, or backyard or even for small yards, holiday inflatable decorations are an easy way to add Christmas cheer.
To make sure your home is ready with holiday decorations, I ordered Sunnydaze Decor holiday inflatable decorations to get you the inside scoop on their inflatable display options.


---
Note – I purchased this large Christmas inflatable from Sunnydaze Decor Jolly Holiday Penguin inflatable decoration with my own money (this is not a sponsored post) so I could order from Sunnydaze Decor's website directly and check on the process from start to finish for all of you.
---
Table of Contents
---
What's so special about Sunnydaze Decor?
If you've read my blog, you remember my sponsored post on Halloween outdoor inflatables from Sunnydaze Decor and how much I loved the inflatable lawn decorations in my yard.

Since I was so happy with my Halloween outdoor yard decoration (my parents also enjoyed their own Sunnydaze Decor Halloween inflatable decorations at their home) – I ordered some inflatable Christmas decorations from the Sunnydaze Decor website to add holiday cheer once again to my home.




As I mentioned earlier, I ordered my Christmas inflatable decorations directly from Sunnydaze Decor's website as they have such a large selection of outdoor Christmas decorations.
I ordered the product on a Monday and the next thing I knew it arrived quickly on the following Wednesday – and all with free shipping. I was excited about how fast the inflatable decoration arrived.
Although I ordered directly from Sunnydaze Decor – I did find they have a shop on Amazon and my Jolly Holiday Penguin inflatable decoration was the same price (retail) on both.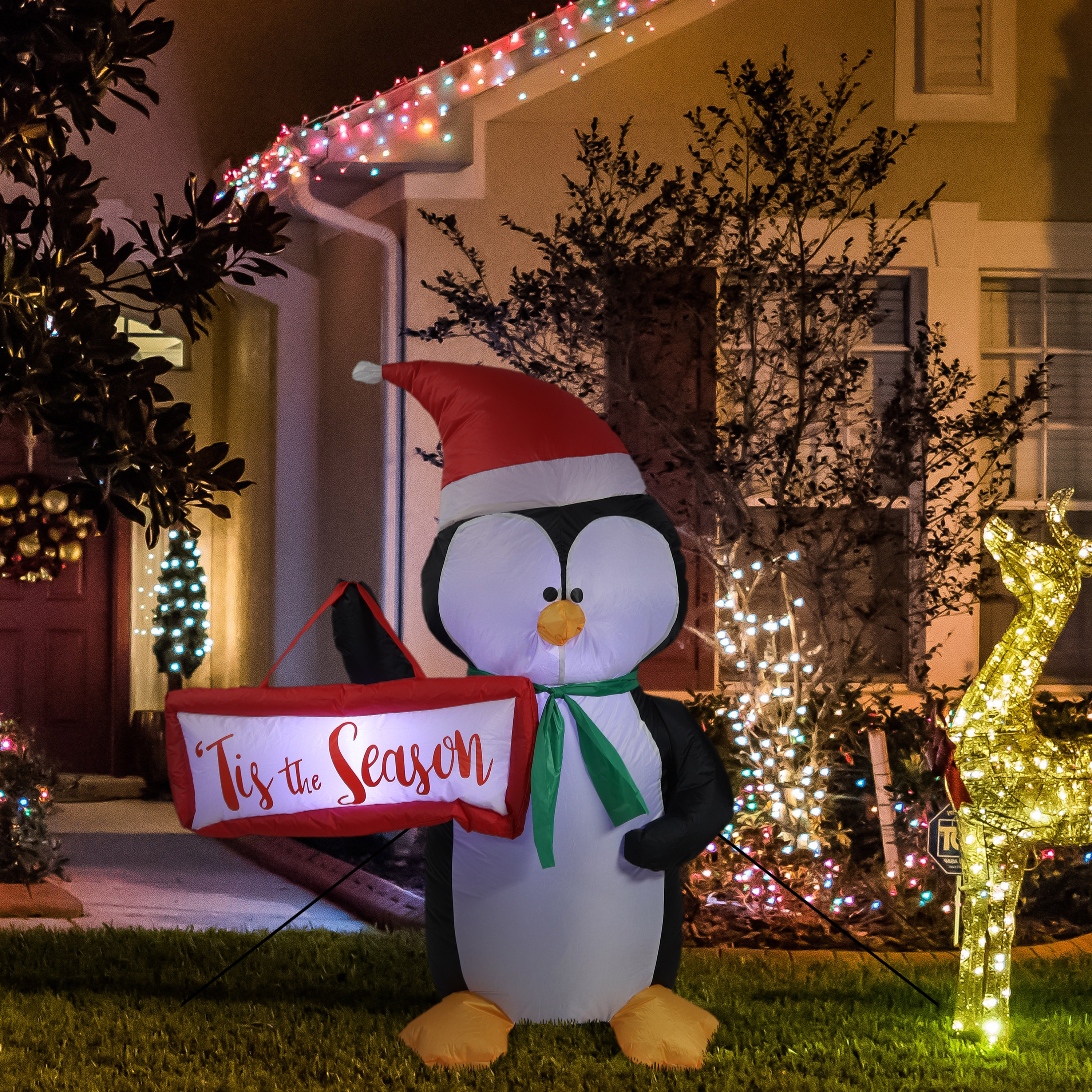 However, Sunnydaze Decor offered a promo code that saved me a percentage off (I signed up for their mailing list) – so I found ordering direct from their website (at the time) was a better buy.


Who is Sunnydaze Decor?
According to the website, Sunnydaze Decor is all about providing customers with sunny days and happy times. Sunnydaze Decor was formed in 2014.


The company is located in Eau Claire, WI, and Sunnydaze Decor is dedicated to offering stylish outdoor decor, as well as fast shipping, great prices, and wonderful choices to elevate outdoor spaces.



Where do Christmas inflatable decorations showcase best?
Whether you add a Sunnydaze Christmas inflatable decoration like an inflatable Santa, inflatable snowman, inflatable Christmas tree, or various other outdoor Christmas inflatables that they offer – place them in the front yard, porch, or backyard, and it will look great.

I tried my Sunnydaze Jolly Holiday Penguin both indoors and outdoors to get you different ideas for decorating your home with an inflatable set.
Here are a few pictures of my Jolly Holiday Penguin Inflatable decoration by my indoor fireplace and then in different areas outdoors and in my front yard.


Since my house is on the smaller side – I decided to keep my Jolly Holiday Penguin inflatable decoration outdoors and in the front yard.


What other kinds of Sunnydaze Decor inflatables are available?
In a variety of sizes and shapes, there is a Sunnydaze Christmas outdoor inflatable decoration to fit any size yard, porch, or home. Check out the current holiday inflatable decorations here.



Here are a few Sunnydaze Decor Christmas inflatable decoration choices:


---
The following are the top 6 reasons why I love and recommend Christmas Sunnydaze Décor inflatable decorations:


1: Family-friendly holiday fun
Christmas inflatable decorations are a hit for all ages – kids and adults alike. With easy setup, these inflatables can offer a unique look to really make the front yard, porch, patio, or backyard (or even an indoor foyer or living room) look very festive and fun.

2: Fantastic, fun, and festive color-scheme
The inflatable features many vibrant colors and shows up beautifully from every angle – especially at night as it has a bright light inside. I really like the red, green, and white colors of my Jolly Holiday Penguin.

3: Sunnydaze added everything needed in one easy (and small) box
Containing all the items needed, the Jolly Holiday Penguin inflatable decoration box had: 1 penguin inflatable decoration, 1 blower motor (built-in fan), 1 adapter, 4 stakes, and 2 tether lines (rope) so that it stays anchored to the ground.


Also, without high winds, this inflatable stands on its own. So, It doesn't need to be tethered indoors.



4: It's simple to get up and running
Setting up the Christmas inflatable decoration in my yard was extremely simple. It comes with easy-to-follow instructions. Also, it inflates in around a minute and everything I needed was in the box.
Just plug it into an electrical outlet, attach the tethered ropes (if using outdoors), add the stakes into the yard (if using outdoors), and bam, the Christmas inflatable decoration is ready to go!



5: Durability
To make sure the Christmas inflatable will last, the manufacturer used 190T thick polyurethane-coated polyester for added durability. This really provides added confidence in the quality of construction of the material and is able to withstand the elements outside.

6: Comes with a warranty
In addition to the look and simplicity of set-up, I love that the Sunnydaze inflatables come backed by a one-year manufacturer's warranty. This provides great peace of mind knowing it's a quality inflatable decoration backed by the manufacturer.

---


Would I order from Sunnydaze Decor again?
Yes! Absolutely! I found the website full of great products and easy to navigate. I was able to put my credit card number in, and with a few clicks – it was ordered.
My Christmas inflatable decoration came so fast – it was simple!

They also offer many other outdoor decorations making it a great way to decorate all areas of your home each season.



How do you order a Sunnydaze Decor inflatable decoration?
Sunnydaze inflatable decorations are available from their Amazon shop by clicking here or you could order directly from their website (like I did) by clicking here.


---
Want more everything home tips and DIY ideas? Be sure to follow us on Pinterest, Instagram, Facebook, and Twitter for the latest posts, tips, and ideas.
---
Final thoughts:
I'm really looking forward to the holiday season this year and am excited to enjoy my Christmas Jolly Holiday Penguin inflatable decoration.


Last year I felt like my front yard was missing that festive, holiday spirit. This year – I'm excited to add my Sunnydaze Decor inflatable decoration. Next year and in future seasons, I will definitely display my Christmas inflatables from Sunnydaze Decor.



Your turn!
What are you most looking forward to this holiday season? How do you decorate your home? Do you like Christmas inflatable decorations? Let me know in the comments!